Phoenix_Point-HOODLUM (2019) / PL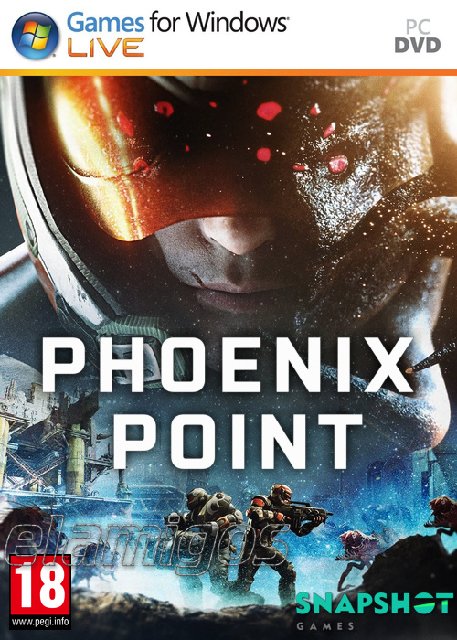 Opis:
Phoenix Point to taktyczna gra strategiczna osadzona w oryginalnym uniwersum science fiction. Za stworzenie tytułu odpowiada amerykańskie studio Snapshot Games, powołane do życia w 2013 roku. Twórcy w dwa lata od powstania zespołu wydali dobrze przyjętą turową strategię fantasy Chaos Reborn, która powstała dzięki zbiórce w serwisie Kickstarter. Nad produkcją obu gier czuwał Julian Gollop. Ten legendarny twórca i weteran branży ma na swoim koncie klasyki takie jak Laser Squad, Rebelstar Raiders, a przed wszystkim oryginalne UFO: Enemy Unknown, będące pierwszą osłoną cyklu X-COM, wskrzeszonego z sukcesem przez studio Firaxis w 2012 roku.

Tytuł przenosi nas do roku 2046. Kilka dekad wcześniej naukowcy badający Antarktykę odkrywają w jednej z próbek lodu tajemniczy starożytny wirus obcego pochodzenia. Wkrótce wymyka się on spod kontroli i atakuje wszystkie formy życia, które spotyka na swojej drodze. W obliczu globalnej pandemii ludzkość okazała się bezsilna i w krótkim czasie została zdziesiątkowana. Miejsce zwierząt i ludzi zajęły przerażające zmutowane stwory, kryjące się we mgle pokrywającej znaczną część powierzchni Ziemi. Ocalali chronią się w odosobnionych enklawach, walcząc na co dzień o przetrwanie z ciągle zmieniającymi się i adaptującymi do nowych warunków przeciwnikami. Inspiracją dla deweloperów była twórczość H.P. Lovecrafta, a także filmowe horrory reżyserów takich jak David Cronenberg. Historia przedstawiona w Phoenix Point posiada kilka zakończeń, które otrzymujemy w zależności do decyzji podjętych podczas kampanii.

Phoenix Point czerpie pełnymi garściami z oryginalnego X-COM jak i jego uwspółcześnionych wersji (XCOM: Enemy Unknown i XCOM 2). Nie znaczy to jednak, że twórcy wykorzystali jedynie rozwiązania mechaniczne poprzedników. Gracze dowodzą jednym z ostatnich bastionów ludzkości (tytułowy Phoenix Point), dbając o jego rozwój, bezpieczeństwo oraz zasoby, a także operacje militarne. Podobnie jak w XCOM, w trakcie rozgrywki operujemy także na globalnej mapie świata, poszukując innych ludzkich osad i wykonując zlecone przez nie misje. Istotne będą też ukryte lokacje, w których pozyskujemy zasoby niezbędne do rozwoju bazy i ekwipunku. Nawiązujemy też kontakt z innymi frakcjami, choć nie wszystkie są przyjaźnie nastawione. Niektóre oddają wręcz religijną cześć monstrom stworzonym przez wirusa, inne dążą do koegzystencji lub kompletnej eksterminacji tych przeciwników. W zależności od naszych stosunków z innymi grupami, możemy wykorzystać także ich unikalne technologie i bronie. Aspekt polityczny i ekonomiczny zabawy będzie zrealizowany na znacznie większą skalę niż w przypadku XCOM, miejscami przypominając strategie studia Paradox.

Większą część czasu spędzamy trybie taktycznych walk turowych, w którym dowodzimy złożonym przez nas oddziałem. Praktycznie wszystkie lokacje, w których zmierzymy się z przeciwnikami, są generowane losowo. Dodatkowo twórcy wprowadzili system zniszczeń otoczenia dający nam zupełnie nowe strategiczne możliwości. Mapy są w dużej części przykryte stworzoną przez wirus mgłą, gdzie ukrywają siłę oponenci. Podobnie jak poszczególne lokacje, także przeciwnicy są generowani przez silnik gry w sposób proceduralny. Co ciekawe, zmutowane przez wirus stwory dopasowują się do naszego stylu rozgrywki. Jeśli w jednej z misji atakujemy głównie przy użyciu broni snajperskiej, w następnej możemy liczyć na to, że staniemy w oko w oko z wyewoluowanymi wrogami, którzy dysponują zdolnościami kontrującymi tego rodzaju oręż. Gracze mogą, podobnie jak w serii Fallout, celować w konkretne części ciała przeciwników, co jest istotne zwłaszcza w walce z najgroźniejszymi wielometrowymi behemotami, przypominającymi wytwory lovecraftowskiej wyobraźni.

Phoenix Point napędza autorski silnik graficzny, oferujący przyjemną dla oka oprawę graficzną wykorzystującą wiele współczesnych trików i efektów graficznych.


Gatunek: Strategiczne | science fiction | turowe | taktyczne | crowdfunding | indie
Producent: Snapshot Games Inc.
Wydawca: Snapshot Games Inc.
Data premiery: 3 grudnia 2019


Wymagania:
Rekomendowane:
Intel Core i5 3.0 GHz / AMD FX 3.2 GHz, 16 GB RAM, karta grafiki 6 GB GeForce GTX 1060 / 8 GB Radeon R9 390X lub lepsza, Windows 7(SP1)/8/10 64-bit

Minimalne:
Intel Core i3 / AMD Phenom II X3, 8 GB RAM, karta grafiki 2 GB GeForce GTX 660 / Radeon R9 270 lub lepsza, Windows 7(SP1)/8/10 64-bit


Screeny:
Dane techniczne:
Wielkość: 15.8 GB
Kompresja: rar
Dane naprawcze: 10%
Zawartość: plik .iso
Język: PL, ENG, inne


Instalacja:
1. Unrar
2. Mount or burn the .iso
3. Run our installer, Setup.exe
4. Block the game in your firewall
5. Run the game.


NFO:
Download:

| Phoenix_Point-HOODLUM | 14.58 GB
Phoenix.Point.Update.v1.0.54580-ANOMALY (2019) / PL
Dane techniczne:
Wielkość: 1.36 GB
Kompresja: rar
Dane naprawcze: 10%
Zawartość: pliki instalacyjne
Język: PL, ENG, inne


Instalacja:
1. Unpack release.
2. Install the Update to where you installed the game.
3. Grab a beer and enjoy!

1. If you're asked to run applyPatch.exe during install - Do it!
2. First time appliance of our updates will not find the game location.
Make sure you choose to install the update to the correct path!
Our installer will generate the game name itself, so make sure NOT
to install in say: C:\Games\MyGame\MyGame - It will break!

3.This update require the following release(s) to be installed:

Phoenix_Point-HOODLUM


NFO:
Patch Notes:
Download:

| Phoenix.Point.Update.v1.0.54580-ANOMALY | 1.50 GB