Outward - RELOADED (2019) / ENG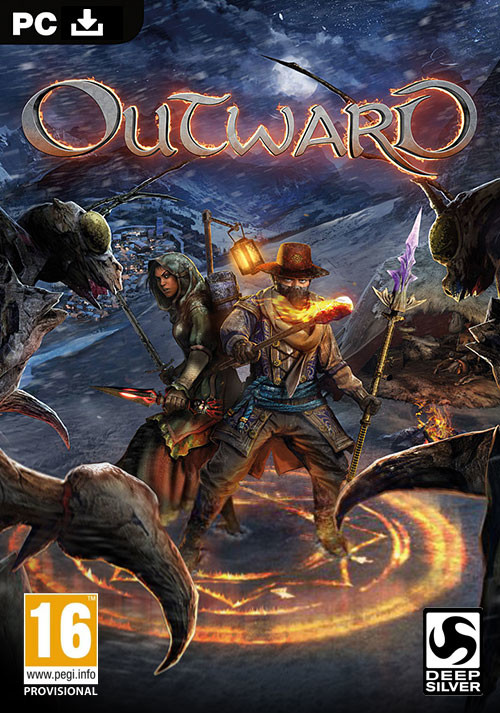 Outward to gra RPG z otwartym światem. Opracowało ją studio Nine Dots, mające na koncie m.in. kosmiczną strzelankę GoD Factory.

 

Akcja gry toczy się w dosyć klasycznej krainie fantasy znanej jako Aurai, pełnej magii oraz krwiożerczych potworów. Świat ten jest kontrolowany przez cztery główne frakcje. Największa grupa nosi nazwę Kolektywu Błękitnej Komnaty i składa się z licznych pomniejszych klanów, które łączy niewiele poza przywiązaniem do własnych rodzin. Luźna struktura stronnictwa sprawia, że jej strefy wpływów zaczęła przejmować inna potęga znana jako Bohaterskie Królestwo Levant, nęcąca ludność za pomocą obietnic sprawiedliwych rządów oraz niskich podatków. Trzecią frakcją jest religijna Święta Misja Elatt, a ostatnią dużą grupą są Soroboreanowie, skupiający ludzi nauki i handlu. Gracze mogą dołączyć do dowolnej z nich (z wyjątkiem Soroboreanów), otrzymując tym samym dostęp do odmiennych przygód, odrębnego wątku fabularnego oraz unikalnych okazji do rozwoju postaci.

 

Otwarta struktura świata i brak skalowania poziomu wrogów sprawiają, że możemy udać się, gdzie tylko dusza zapragnie, ale nikt nie zagwarantuje nam bezpieczeństwa podczas takich wypraw. Autorzy zadbali o to, aby kraina była dynamicznym miejscem, w którym pory roku ulegają zmianie, postacie niezależne posiadają własne życia, a wiele zadań nie czeka, aż zajmą się nimi gracze. Celem autorów była symulacja całej kariery poszukiwacza przygód – od skromnych początków, aż po przejście na emeryturę. To ostatnie nie kończy jednak zabawy - dostępna jest opcja przekazania umiejętności oraz najcenniejszego ekwipunku potomkowi, a następnie kontynuowanie rozgrywki w jego skórze.

 

Autorzy nie przewidzieli ręcznego zapisywania stanu gry i silnik zajmuje się tym automatycznie. Zostało to zrealizowane w sposób, który sprawia, że każda decyzja jest ostateczna i nie ma opcji załadowania stanu sprzed dokonania ważnego wyboru. Klęska w starciach nie kończy się śmiercią, a jedynie ogłuszeniem. Potem postać budzi się bez ekwipunku lub w niewoli. Nie ma także opcji powtarzania przygód - jeśli nie uda nam się wykonać zleconego zadania, to porażka ta wpłynie na zmianę sytuacji w świecie.

 

System walki jest mocno zręcznościowy i każdy typ uzbrojenia oferuje własny zestaw ataków. Wygrane wymagają sporego wysiłku i planowania. Gracze mogą korzystać z systemu magii, ale każde potężne zaklęcie potrzebuje konkretnych składników oraz wykonania serii rytuałów. Istotną rolę odgrywają także elementy survivalowe, w ramach których konieczne jest gromadzenie jedzenia i wody, korzystanie z systemu rzemiosła oraz chronienie bohatera przed trudnymi warunkami pogodowymi.

 

Nietypowym elementem produkcji jest tryb kooperacyjny, który umożliwia zabawę na podzielonym ekranie i to nie tylko lokalnie, ale również podczas rozgrywek sieciowych, co jest wyjątkowo rzadko spotykaną opcją.

 



 

Gatunek: RPG | TPP | fantasy | sandbox | survival | na 2 osoby | kooperacja | RPG akcji | podzielony/wspólny ekran

Producent: Nine Dots Studio

Wydawca: Deep Silver / Koch Media

Data premiery: 26 marca 2019

 



 

Rekomendowane:

Intel Core i5-2400 3.1 GHz, 8 GB RAM, karta grafiki 2 GB GeForce GTX 960 lub lepsza, 15 GB HDD, Windows 7/8/10

 

 

Minimalne:

Intel Core i5-750 2.66 GHz, 4 GB RAM, karta grafiki 1 GB GeForce GTS 450 lub lepsza, 15 GB HDD, Windows 7/8/10

 



 

Wielkość: 8.04 GB

Kompresja: rar

Dane naprawcze: 10%

Zawartość: plik .iso

Język: ENG

 



 

1. Unrar.

2. Burn or mount the image.

3. Install the game.

4. Copy over the cracked content from the /Crack directory on the image to

   your game install directory.

5. Play the game.

6. Support the software developers. If you like this game, BUY IT!