Frostpunk The Fall of Winterhome - CODEX (2018) / PL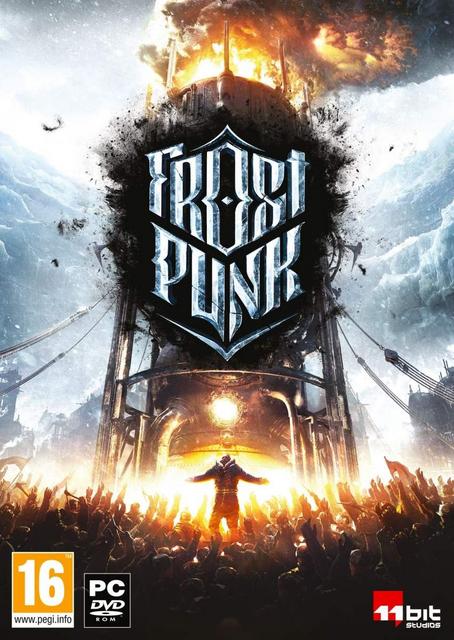 Frostpunk jest połączeniem strategii czasu rzeczywistego i city buildera, wzbogaconym o wyraźnie zarysowane elementy survivalowe (twórcy mówią wręcz o opracowaniu nowego gatunku, nazwanego przez nich "society survival"). Za produkcję odpowiada polski zespół 11 bit studios, który zdobył światową sławę dzięki ciepło przyjętym grom z serii Anomaly oraz bestsellerowemu This War of Mine. Produkcja została wydana wyłącznie na platformie PC.

 

Akcja Frostpunka toczy się w alternatywnej wersji XIX wieku, w której na Ziemi zapanowała nowa epoka lodowcowa. Garstka ocalałych, nad którą przejmujemy kontrolę, szuka schronienia w pobliżu parowego generatora ciepła – chcąc utrzymać ostatni bastion ludzkości, cała społeczność musi dostosować się do nowej, mroźnej rzeczywistości.

 

Rozgrywka w wydanym na platformie PC Frostpunku skupia się na okolicach generatora ciepła, wokół którego w koncentrycznych kręgach rozbudowywana jest osada ocalałych. W toku zmagań konstruujemy nie tylko domy dla mieszkańców, lecz także rozmaite budynki przemysłowe, szpitale, domy opieki czy kuchnie. Choć na początku dysponujemy jedynie garstką ludzi, z czasem napływają do nas kolejne osoby, przez co wioska stopniowo przeistacza się w wielkie postapokaliptyczne miasto.

 

Rozgrywka polega przede wszystkim na zarządzaniu społecznością w taki sposób, by za wszelką cenę utrzymać ją przy życiu. Często wymaga to poświęcenia praw czy wręcz życia jednostek dla dobra ogółu; niekiedy wyłącznie w ten sposób zapewniamy pozostałym szansę na przetrwanie. Motorem gry jest podejmowanie niejednoznacznych moralnie decyzji, zrealizowane w formie uchwalania kolejnych praw. Przykładowo, możemy posyłać do pracy nie tylko dorosłych, ale i dzieci, organizować pogrzeby ofiar wypadków (a tym samym marnować cenny czas) lub grzebać je w masowych grobach, czy choćby drastycznie zwiększyć wymiar czasu pracy. Należy jednak pamiętać o wskaźnikach rozgoryczenia i nadziei, prezentujących to, jak nasi podopieczni odnajdują się w nowej sytuacji; kluczem do sukcesu jest takie balansowanie nastrojów, by nie doprowadzić do eskalacji niezadowolenia ludności, co może skłonić ją do buntu, a w rezultacie – obalenia kiepskiego zarządcy i zakończenia zabawy. W trakcie rozgrywki sporo czasu spędzamy na ekranie prezentującym rozbudowane drzewo praw przysługujących mieszkańcom, które zawiera wzajemnie wykluczające się rozwiązania istotnych problemów; skorzystanie z każdego z nich niesie ze sobą tak pozytywne, jak i negatywne skutki, których wpływ możemy odczuwać jeszcze długo po ich uchwaleniu.

 

Na tym jednak się nie kończy, gdyż z czasem nasze możliwości zaczynają rosnąć – po wybudowaniu warsztatu otrzymujemy dostęp do nowych technologii, których odkrycie może ułatwić życie mieszkańcom, ale też stworzyć dodatkowe problemy. Zainwestowanie w balon nawigacyjny wskaże innym ocalałym miejsce, gdzie mogą znaleźć nowy dom, z kolei opracowanie tak zwanych automatonów (czyli robotów napędzanych parą, które mogą pracować niemal bez wytchnienia) znacząco odciąży pracowników. Ale więcej ludzi w osadzie to również potencjalne zmartwienia (wszak ktoś musi o nich zadbać), z kolei awarie maszyn mogą doprowadzić do groźnych wypadków. Ważna jest także eksploracja skutego lodem świata – posyłanie zwiadowców wiąże się z dużym ryzykiem, bo wysłani na mroźne pustkowia skauci mogą natrafić na śmiertelne bezpieczeństwa, jednak tylko w ten sposób można na przykład odkryć dodatkowe złoża bezcennego węgla.

 

Oprócz trybu fabularnego, na który składają się trzy rozbudowane scenariusze, Frostpunk zawiera także moduł sandboksowy, w którym gracz może rozbudowywać osadę wedle własnego uznania, bez konieczności realizacji konkretnych zadań.

 

Trójwymiarowa grafika Frostpunka opiera się na kontrastach; z jednej strony bowiem mamy chłodne barwy reprezentujące naturę, natomiast z drugiej – ciepłe kolory symbolizujące pozostałości po dawnej cywilizacji. Całość prezentuje wysoką jakość, a jej dopełnieniem jest intuicyjny interfejs. Warto zwrócić uwagę na fakt, że przerywniki filmowe do gry zostały opracowane przez studio Platige Image, z kolei soundtrack jest dziełem Piotra Musiała, w którego portfolio można znaleźć między innymi utwory skomponowane na potrzeby Krwi i wina, czyli dodatku do hitowej produkcji studia CD Projekt RED, Wiedźmin 3: Dziki Gon.

 



 

Gatunek: Strategiczne | science fiction | steampunk | ekonomiczne | RTS | postapokalipsa | survival | polskie | budowa miasta

Producent: 11 bit studios

Wydawca: 11 bit studios

Data premiery: 24 kwietnia 2018

 



 

Rekomendowane:

Quad Core 3.2 GHz, 8 GB RAM, karta grafiki 4 GB GeForce GTX 970 / Radeon RX 580 lub lepsza, 8 GB HDD, Windows 7/8/10 64-bit

 

Minimalne:

Dual Core 3.2 GHz, 4 GB RAM, karta grafiki 2 GB GeForce GTX 660 / Radeon R7 370 lub lepsza, 8 GB HDD, Windows 7/8/10 64-bit

 



 

Wielkość: 5.74 GB

Kompresja: rar

Dane naprawcze: 10%

Zawartość: plik .iso

Język: PL, ENG, inne

 



 

- Extract

- Burn or mount the .iso

- Run setup.exe and install

- Copy crack from CODEX dir to installdir

- Play

 

NOTES: This release is standalone updated to v1.2.0 and includes

all previously released content.

 
Frostpunk The Fall of Winterhome Update v1.2.1 - CODEX (2018) / PL



 

Wielkość: 50.4 MB

Kompresja: rar

Dane naprawcze: 10%

Zawartość: pliki instalacyjne

Język: PL, ENG, inne

 



 

- Extract

- Run setup.exe and install update

- Copy crack from CODEX dir to installdir

- Play

 

You need the following releases for this:

 

Frostpunk.The.Fall.of.Winterhome-CODEX